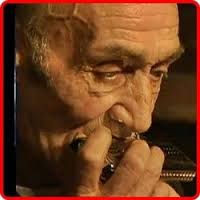 After 9 surgeries for a bad heart, Andy Mackie was prescribed more than 15 medications. The side effects were miserable. And the misery was costing at least $600 every month. Andy decided that he didn't want to spend the remaining days of his life feeling miserable, so he decided to stop all his medications. The doctors said he would die within a year. They were wrong.
Andy loved music, so he decided to use the money he would have spent on his heart medicines to buy 300 harmonicas to give to children. He contacted the local schools and set up classes to teach the children how to play. Mackie said, "I tell them music is a gift, you give it away – you give it away and you get to keep it forever."
And when he didn't die the next month, he decided to do the same thing. He bought a few hundred more. And every month after that, Andy Mackie continued to buy harmonicas, give them to children and provide lessons. He forgot about dying. His efforts were recognized in 2005 at the Northwest Folklife Festival where he set the Guinness World Record for the largest harmonica band ever to perform in one place.
Thirteen years after he stopped his medications, Andy Mackie finally passed away at the age of 72. During those final years, he gave away 20,000 harmonicas, taught hundreds of children to play them, personally built 5500 strum sticks and created a foundation to continue his dream. He lived his life with joy.
What can we learn from Andy? I think he is a perfect example of thinking about what you want…instead of what you don't want. Andy could have accepted the fate that his doctors decided. He could have chosen a life of misery and pain, waiting for death. Instead, he chose love instead of fear. He chose to think about what he loved. He chose to act on his thoughts. He recognized how his actions affected others. He was joyful in his work. His body continued to serve him because he believed in life more than he believed in death.
How can you use the lessons Andy taught? Look outside of yourself. How can others benefit from your generosity? What do you have to give? Consider that although generosity is an action that is done without an expected return, in that giving, you may also receive great benefits. What you put forth comes back to you.
It appears that Andy Mackie did not have a bad heart after all. His generosity came from a heart that was filled with the love of music and the spirit of giving. For Andy, giving that love to the children was the very best medicine of all.