I stroll along the water's edge. The waves lap at my feet and splash against the shore. Chilly yet inviting. My toes sink into the wet sand. It holds me securely as I gaze out to sea. Such beauty in my world. The islands stretch along the horizon, peeking out from the haze. Behind me the Topa Topas mountains rise.  To my right are the foothills and to my left is Boney Ridge. Home. I am surrounded by the beauty of nature. It feeds my soul. Wow! I am lucky to call the Gold Coast of California my home! 
Gratitude fills me. Gratitude for my life. My family and friends. I have such love in my life. Such joy and abundance. I am blessed beyond words. 
I walk. I watch. A few people pass by and nod in greeting. Dogs joyfully chase sticks and wag their tails. Birds cry and dive and scurry. The winged ones.  My beach. My world. I am so thankful for all that I have and all that I am.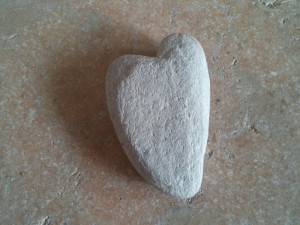 I look down and something catches my eye. Among the stones strewn about by the tide, there is one shaped like a heart. I reach out to pick it up, struck by the awesome beauty of manifestation…of thought into form; of God's presence in my life; of the Law of Attraction and the power to create. I cry and dance and sing out "Thank You! Thank you for this gift!" 
All thought comes into form. It happens with focus. Pay attention! There are treasures to discover. Whatever you are thinking about, you are creating.