Access the Power of Your Subconscious Mind
Hypnotherapy is a way of directing the imagination…
"If you follow your bliss, you put yourself on a kind of a track that has been there the whole while, waiting for you… and the life you ought to be living is the one you are living." ~ Joseph Campbell
Hypnotherapy can help you to find your bliss. It can help you to create the life you want…a healthy, happy and prosperous life. It is a process of building a bridge between what you want and what you do… a process of creating a new reality.
 Hypnosis is like a daydream, a way of directing the imagination to help mind and body bring health and strength into being, and to perform as needed. Our physical bodies don't know the difference between sensory images created in our minds… and sensory images in what we call reality.
Hypnosis gives us access to the power of our subconscious mind, our goal achieving machine. And when we enter this power center, we leave behind our physical stress and experience a feeling of complete relaxation. Senses are heightened. Endorphins are produced. With the guidance of a certified hypnotherapist, perceptions and behaviors are changed.
I am very excited about the many applications for the use of hypnotherapy and I believe you will share this excitement when you realize the many ways hypnotherapy can help you. Accept that whatever you believe, you can achieve. Your commitment to your goals and desires will create change. Anything you set your mind to accomplish is possible.
 I'd like to ask you a few questions…
 Do you need to improve your memory or concentration? Self-confidence? Motivation?
 Do you need stress reduction? Do you need to learn how to relax?
 Do you suffer from fears…of public speaking…of flying…of test performance?
 Would you like to enhance your career performance and add to your prosperity?
 Do you need to prepare for surgery? How about surgical recovery?
 Would you like to excel in sports performance?
 Would you like to start and maintain an exercise program?
 Are there habits you'd like to eliminate from your life … smoking… nail-biting… tardiness… over-eating?
 Do you suffer from chronic pain or sleeplessness?
 How are your relationships? Would you like to learn strategies to improve them?
 Do you need help to deal with grief…after suffering the loss of a loved one…or the loss of a relationship?
 Do you want to enhance your creativity, your self-expression?
 Would you like a more satisfying sex life?
Do you need to increase your fertility or prepare for childbirth?
 How are your children? Would you like to help them with performance? How is their self-confidence? Do they need help with controlling bed-wetting or ADD?
 Do you need help coping with the stress of being a parent? Or the stress of being a caregiver for a parent?
 Would you like to explore another time…another place…another life?
 All of these things and more, are available to you through hypnotherapy. 101 Benefits of Hypnotherapy…just one could change your life.
Can I be hypnotized?
Yes, if you can follow simple directions and have the desire to experience hypnosis.
Am I in control while hypnotized?
Yes, you are always aware and in control. You can awaken from hypnosis at any time. You are an active participant in the process.
What can I expect to experience?
You will have a feeling of pleasant relaxation. You will be aware of all that is happening around you. Your senses will be heightened. You will feel refreshed and have a sense of well-being.
Will I quack like a duck?
Only if you are a duck, or want to act like one! A suggestion will only take effect if you allow it. Again, you are always in control of your actions.
Will I need my doctor's referral?
Certain conditions may require a referral. Your health and well being are the first priority. We will evaluate your individual needs during the first session.
How many sessions will I need?
Because you are a unique individual, your therapy plan will be structured to fit your specific needs. All therapy is dependent on your commitment to create change in your life. I will give you my commitment of 100% participation in your success.
Therapeutic Imagery Uses MindSight
What is Therapeutic Imagery?
Therapeutic Imagery allows you to access unique and insightful information through images, the language of the emotional right brain. While in the hypnotic state, a dialogue between client and facilitator allows valuable messages to be recognized, and then to be reinforced with direct suggestions.
Therapeutic Imagery is an ancient, natural and powerful healing modality. It has been used for thousands of years to facilitate healing, enhance performance and relieve symptoms of both physical and emotional ailments. It allows you to safely explore many issues and tap into your innermost resource – the subconscious mind.
The imagery experience is a direct communication from the subconscious mind. We receive information from the emotional right brain, which speaks to us through images. Imagery is the process of creating a mental "picture." Effective imagery is not limited to sight, but uses sound, smell, taste, touch, kinetics and emotions as well.
Everyone has unique personal symbols based on life experience, and when tapped into during the state of hypnosis, you are able to maximize your depth of involvement and self-direction in the imagery process. Therapeutic imagery is like lucid or directed dreaming.
Imagery can be used as a means of self-discovery. Inner exploration is a wonderful way to become aware of your innate gifts, strengths, and resources. When we allow the self to inquire within and invite images to come up, we are better able to understand our motivations, priorities, and passions. We find inspiration, and release subconscious limitations. Imagery creates a powerful experience of being your best.
Imagery can also help you learn new skills more quickly. Often there is a limit on the amount of physical practice you can do; however, imagery allows you to go through the movement until you get it right. When you picture yourself succeeding, your mind becomes more comfortable with it. The subconscious mind does not know the difference between "reality" and what we imagine. Visualizing success boosts your confidence and helps you learn to believe in yourself.
Therapeutic Imagery is an effective way to change your "life script" or past programming.
Imagery is a flow of thoughts you can see, hear, feel, smell or taste. An image is an inner representation of your experience or your fantasies – a way your mind codes, stores, and expresses information. Imagery is the currency of dreams and daydreams; memories and reminiscence; plans, projections and possibilities. It is the language of the arts, the emotions and most imortant, of the deeper self.

Imagery is a window on your inner world; a way of viewing your own ideas, feelings, and interpretations. But it is more than a mere window – it is a means of transformation and liberation from distortions in this realm that may unconsciously direct your life and shape your health."  ~  Martin L. Rossman, M.D. from Healing Yourself
Meridian Therapy – Emotional Accupressure
What is Meridian Therapy and how can it help me?
Emotional Freedom Techniques (EFT) is a form of Meridian Therapy or Thought Field Therapy, sometimes referred to as energy psychology. It uses a method of tapping on the body's meridians and accupressure points. This balances disruptions in the body's energy system. EFT has been used successfully for both physical and emotional issues.
If you've been alive for more than a day, I'm sure you've experienced a negative emotion. In fact, if we even think about something in the past that caused us pain or sadness or anger, we experience that emotion over again. We have actually created a neural pathway which insures that the same response will happen. Fortunately, the system also works for any thought about a positive emotion or experience.
This may seem strange. It may even sound impossible…but I'd like you to consider that in the 1850's, Louis Pasteur was thought to be a lunatic. His theories about invisible "germs" were highly disputed. But, when he insisted that doctors wash their hands after working on cadavers and before delivering babies, the mortality rate dropped from 30% to 2%. After that, the medical establishment changed their beliefs.
"One can't believe impossible things, "Alice said. "I daresay you haven't had much practice," said the Queen. "When I was your age, I always did it for half an hour a day. Why sometimes I've believed as many as six impossible things before breakfast."   "Alice in Wonderland" by Lewis Carroll
We may not understand how gravity or electricity or x-rays work, but we are still bound by these "impossible" universal laws. It doesn't matter if we believe, or not.
Science tells us that ALL matter (including the human body) is made of atoms. No one disputes this fact. Nor does anyone dispute that atoms are made of energy. Einstein further emphasized this point with his Theory of Relativity. In simple terms, this means that physical matter (ALL matter, including the human body) is made of energy. Even though we may appear to be solid, our foundation is made of energy.
The ancient Chinese recognized this energy…this life force…as chi. The science of acupuncture was developed where more than 2000 points on the physical body were mapped out, connecting with 12 main and 8 secondary energy pathways called meridians. The meridian system is the conduit between the energy field and the physical body.
Ancient Tantric yoga philosophies also recognized this energy and designed the chakra system. This system identifies centers in the physical body which correspond with the seven levels of the energetic body, forming a coordinating network of the mind-body-spirit system. This system also corresponds with the seven sacraments of Christianity and the ten sefirot of the Kaballah.
EFT, Emotional Freedom Techniques, is a form of Energy Psychology, Meridian Therapy, or Thought Field Therapy. It is based on the idea that we are beings of energy. Much research has shown the body's energy system is electro-mechanical, electro-optical, electro-acoustic and electro-magnetic. It can be directly engineered just like a computer. It is a vehicle receiving a variety of signals which it processes and to which it responds. Tapping a meridian point delivers mechanical energy. The energy is converted to an electrical signal. This signal acts as a carrier wave.  It is no different than adjusting the color, contrast, focus and brightness on the TV in order to get a clear picture.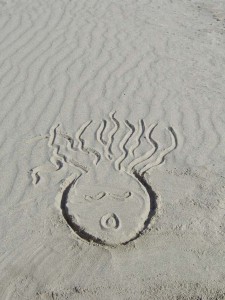 When we experience a negative emotion or physical discomfort or pain, it is because there has been a disruption in our energy system…kind of like sticking a fork into an electrical outlet.  The thought energy affects the emotional energy which affects the physical energy.
 EFT works by tapping on a series of points on the body that correspond to acupuncture points in the energy meridian system. The tapping releases blockages which are reflected as thoughts in the mind and in the functioning of the physical body. EFT is emotional acupressure. EFT helps you to Align Your Thought Field.
 Tapping can be used to release any negative energy. Tuning into a problem can be done simply by thinking about it. Thinking about the problem will bring about the energy disruptions involved which can then be balanced by applying EFT.
 Emotional Freedom Techniques can be used daily to release a long list of every bothersome specific event you've every experienced. It can also be used to tap away limiting beliefs that keep you from living the life you want.
 EFT can be used to focus and choose positive thoughts by affirming what we want. We are only able to process one emotion at a time. There is no such thing as "happysad". We must make a choice. We can choose to be happy rather than sad; choose to be calm rather than anxious; choose to be confident rather than doubtful; choose to be at peace rather than angry; choose health rather than sickness. EFT helps us to make that choice energetically.
 Belief in the process is unnecessary. EFT is like gravity or electricity. It works whether you believe in it or not. You just have to do it. Persistently and consistently.
 In order to attract anything into your life, you must become a vibrational match to it. As you think, you vibrate. As you vibrate, you attract. 
If you consider a wanted or unwanted thought, you will feel a wanted or unwanted emotion. If you choose to change the thought, you've changed the emotion, and therefore you have changed the creation. It is simply a matter of choose your thought…choose your life. The Mind Matters.