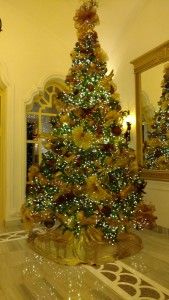 Happy Holidays. Merry Christmas. Happy Hanukkah. Feliz Navidad. Celebrate the season! It's a wonderful time of the year to appreciate each other. We all have many memories attached to this season. I think most of them are good or we wouldn't continue with the traditions. Because of the feelings attached to these memories, at this time of year, our emotions can get a little out of whack. We are more sensitive. Hopeful. Things seem bigger. More dramatic. Everything is magnified. Good things are better. Bad things are worse. During the holiday season, some of us may not feel like celebrating. Extra time and effort are required and we are already overwhelmed with the necessities of life. It's been a difficult and divisive time in our society. There are many among us who face a personal challenge this year.
We may have lost a loved one and the world is a different place than it was last year. It is emptier. We mourn what was. And sometimes reminders of past joy can bring pain. We don't want to look. We don't want to feel. Maybe we have less money to spend on our loved ones. Or maybe we have less time to spend with them because they are scattered all over the world. Or could it be that they are right next door but the emotional distance is just too far to travel? Maybe we feel we are all alone with no loved ones.
All feelings are valid and need to be acknowledged. You deserve to feel your emotions. It's the only way you can process them and let them go. The season reminds us of Joy – the #1 emotion. It doesn't get any better than Joy. If you're not feeling Joy, what are you feeling? If you're feeling Fear, Grief or Depression, you've hit the bottom. You're at the lowest end of the emotional scale. There are many emotions you could consider feeling. You could move on up to Insecurity or Jealousy or Anger and it's not too much of a stretch to get to Blame or Disappointment. As bad as they are, these emotions are better than Fear. As you move past Frustration and Pessimism, you will find Hopefulness and Optimism. You can make the conscious choice to move up to Enthusiasm where you will find that Passion is within reach. From there, you have nowhere else to go but up – to reach Joy. Although you may have reason to deserve to feel any emotion, remember you deserve to feel Joy.
The holidays are a symbol of hope and a promise of miracles. That alone is worth celebrating. The American essayist, Hamilton Wright Mabie reminds us, "Blessed is the season which engages the whole world in a conspiracy of love."  As we enter the holiday season, I encourage you to select what you love about the holidays and reinforce it or recreate it. You can choose to participate or you can choose to remove yourself. Whatever you choose to do, do it with your heart. Do it because it feels good for you. Let the stress go. Stress was never the intention of a holiday.
Like it or not, the season will be over before we know it. Just like everything in life, it is temporary. There is great value in recognizing the reality of impermanence. When we remain in the now moment we are able to cherish the people and circumstances which bring joy and we acknowledge that difficult times will pass. Remember that your feelings matter. Treat yourself with love and respect. And find your Joy. It's the best holiday gift you can receive. It's worth celebrating.