"Destiny grants us our wishes, but in its own way, in order to give us something beyond our wishes."      ~ Johann Wolfgang von Goethe
 Many years ago, two little girls shared a wish. Each one wished for a Shirley Temple doll. For those of you too young to remember, Shirley was a very famous child movie star with golden ringlets and dimpled cheeks. She was so beloved, that a doll was created in her image. There were different versions and various sizes and many outfits. Before little girls loved Barbi, they loved Shirley.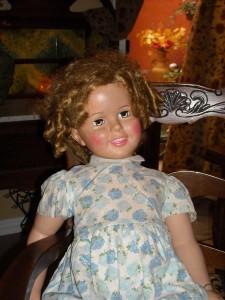 One of the girls received her Shirley. Her wish came true. She was a special girl and very loved. This Shirley doll was the super-size version – as tall as a 3 year old child. She could look you in the eye! The little girl loved Shirley. She loved her so much that she played with her and played with her until one day Shirley just lost her head. Literally, hanging by a thread. But it didn't matter if Shirley wasn't perfect anymore because she was still much loved and adored. So, the little girl carefully wrapped Shirley and put her away for safekeeping. As the years passed and the little girl grew, she continued to treasure Shirley. Wrapped and boxed and carried from house to house, there was always a place for her.
The other little girl was also a special girl and very loved. But her wish never came true. Year after year, she would ask Santa to bring a Shirley doll. She would have really liked the Heidi version or maybe Susannah of the Mounties. Santa brought many beautiful dolls, but Shirley never came. So, the little girl asked Mommy and Daddy to please give her a Shirley of her very own. It never happened. And when the little girl grew into a young woman, she shared her childhood wish with her husband. And he listened. But her wish was not granted. And even though she had a wonderful life, that empty feeling stayed with her. It lived inside her most all her life. Maybe she wasn't good enough, or maybe she wasn't worthy of such a special gift. Maybe no one loved her enough to give her what she wanted.
Although she said she "could easily buy her own damn doll" and that she no longer wanted it anyway, she shared her story with her friend.  Her friend listened and then asked if she would like to visit with Shirley.  It might help her to move past the disappointment and clear it away. Her friend knew of a Shirley doll. It was stored away in her sister's attic. The gift of anticipation filled the little girl's heart and the woman said, "Yes." It would be fun to play with Shirley and have a little time together.
The sister was called and the story was told. Even though she had never met me and I'm sure had much more to do with her life, she took the time and effort to drag Shirley out of storage for me. I'm grateful for that. It made me feel very special. Although I never did receive my wish for a Shirley doll as a little girl, I received a different kind of wish fulfillment. I spent time with Shirley, talking and laughing and pretending. I was a child again. I can't explain how it helped me. I can only say that it did. 
And when our visit was done, Shirley was wrapped up again and returned to that little girl who had lovingly kept her. I filed away my memory of the day and didn't give her or Shirley another thought until I received the news.
I listen to a trembling voice speaking words that she is afraid to hear. She says, "My sister took her own life."  I attended funeral services for that little girl. Even though I had never met the woman who lovingly shared her Shirley with me, I wanted to celebrate the gift of her life. She touched me. She was a special girl and very loved.  I sincerely hope she knew that. May she rest in peace.