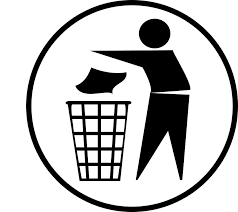 What's your complaint? What annoys you? Who is doing things to you…making you feel angry or sad?  Are there obstacles standing in your way? Limitations? Problems that need solving?  Does your life suck? If it does suck, do you think that complaining about it is going to change it? Do you think anyone wants to listen to your complaints? Do you expect others to fix things for you? If they did fix it, would you be satisfied? Or would you complain that they didn't do it right? No one is responsible for you except you. Figure out the solution to your problem.
Marcus Aurelius, the Roman emperor best known for his Meditations on Stoic philosophy, advises that we should deal with any obstacles quickly. Do this instead of wasting time complaining about the obstacle. He says, "A cucumber is bitter. Throw it away. There are briars in the road. Turn aside from them. This is enough. Do not add, 'And why were such things made in the world?'"  In other words, deal with it. And move on.
Are you guilty of complaining? Or maybe you know someone who is skilled at whining or grumbling? Some of us spend a lot of time focusing on what we don't like; don't want and don't need. We find solace in going over all the details of what is wrong and who is at fault.  This happens with individuals. It also happens within a relationship or a community. This negative and futile behavior is heightened when we are experiencing problems and differences in opinions about how to solve those problems. Asking why doesn't help. Moaning about the way things are and wringing our hands in despair is never a solution to any problem.
With all situations in life, you must look at the solution…not the problem. If you know where you want to be, it's easier to figure out how to get there. When focusing your attention on the solution, you are energetically aligned with the positive outcome. You can envision the successful accomplishment of your goal and know what steps you need to take to achieve it. You can imagine your future. You can imagine feeling better. You can take action. It is important to focus on what it is you want and why you want it. With that focus of intention, the who, when and where of what you want will fall into place. You don't have to know all the answers right now. Einstein says, "When the solution is simple, God is answering."
Experiencing life is a series of ups and downs; joys and sorrows. Bad things happen. There is no value to focusing on the bad things. Move on. Complaining will get you nowhere that you want to be. Whining is a waste of time. Throw away the cucumber. In the final analysis, it's about how you respond to the bitterness; how you deal with the problem. It's about what you intend to do right now that determines your future success. It's always about now. It's always about you.